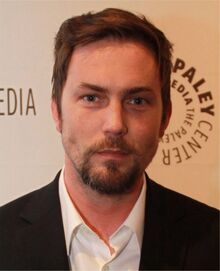 Desmond Harrington (born October 19, 1976) is an American actor. He is known for movies such as The Hole, Wrong Turn and Ghost Ship. He joined the cast of the Showtime series Dexter in its third season as Det. Joseph Quinn and appeared in a few episodes of Gossip Girl.
Life and career
Edit
Harrington was born in Savannah, Georgia, but his parents decided to return to the Bronx when he was 3. His first role was Aulon in Luc Besson's The Messenger: The Story of Joan of Arc. He soon after nabbed prominent roles in films such as The Hole, Ghost Ship and Wrong Turn. Harrington also appeared in the Steven Spielberg sci-fi drama Taken, in which he played Jesse Keys, an abductee of aliens.
In 2007, he guest-starred in Law and Order: Criminal Intent as a serial killer.
In September 2008 he joined the Showtime TV show Dexter.
In December 2008, he played a guest role on Gossip Girl playing Jack Bass. He reprised his role through guest appearances in season three of the show.[1]
In January 2012, it was reported that Harrington will return to Gossip Girl in the "last third of the season".[2] In the same month, he made a guest appearance on the Season three premiere of Justified, playing Fletcher 'The Ice Pick' Nix.[3] He also played a small role in The Dark Knight Rises as a police officer