Evan Ross is a character in Wrong Turn. He is portrayed by Kevin Zegers.
Biography
Edit
Evan, his girlfriend Francine Childes, his friends Carly Numan, Scott Korbee and Jessie Burlingame are going on a camping trip in the west Virginia forest. Francine, Evan, Scott and Carly planned the trip for Jessie, because her boyfriend broke up with her and the trip was supposed to get her mind off things. As the group are traveling down the dirt road, they accidentally run over a strip of barbed wire placed on the road. Everyone gets out to check things out. Soon after, Chris Flynn is on the same road and he accidentally crashes into their car when he wasn't paying attention to the road.
Francine and Evan are angry at Chris, because the car belonged to her mother. Scott then calms them down. Jessie shows the group the barbed wire and thinks someone placed on the road on purpose. Carly jokes about red neck assholes doing it. Chris, Jessie, Scott and Carly all decide to leave and go get help, while Francine and Evan stay behind at the cars. They smoke weed and Francine gives Evan oral sex. Afterwards, they both start looking for food in their car and Francine goes to the car of Chris, looking for food. Francine finds a candy bar and starts quietly eating it. Evan shouts to her if she has found anything to eat, but Francine accidentally lies and says she hasn't. Evan then sees something in the forest and walks to it, while Francine is talking.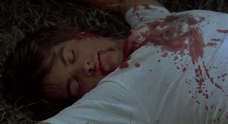 Evan sees something in the forest and goes to check it out. He doesn't return. Francine notices that he is gone and goes looking for him in the forest. She thinks he is peeing. Francine looks around and is shocked to find his sliced off ear on the ground, before she is killed herself. Later, Chris, Jessie and Carly find his dead body in the cannibals truck. His throat has been slit and he dies without his ear. He was the third person to die.