Kaleen Webber

Name:
Kaleen Webber
Gender:
Female
Hair Color:
Chocolate Brown

Eye Color: Brown

Trap: Lost in the Forest

Murderer(s): Three Finger and Maynard Odets

Portrayed By: Emilia Klayn
Appearance:
Kaleen Webber is a fictional character in the 2012 horror film, Wrong Turn 5: Bloodlines. She is portrayed by actress Emilia Klayn.
Biography
Edit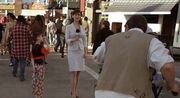 Kaleen Webber was the proud and confident news anchorwoman of a local news affiliate located in Fairville, West Virginia. She valued her job and held a loyal responsibility for providing the residents of Fairville with their weekly dose of the local news. However things didn't always go her way and she didn't appear pleased with the grueling task of reporting on the town's annual Mountain Man Festival. Webber was portrayed as having a very judgmental, if not somewhat cynical personality. She expressed her hatred for those who were know to participate in the festival, including the festival itself.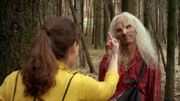 When Webber decides to go out for a jog in the remote West Virginia backwoods, she is soon confronted by Three Finger, whom she passes off as local festival-goer trying to pull a prank on her. She becomes frustrated and enraged by his apparent stalking. So much so, that she throws her middle finger up at him. Three Finger responds by cutting it off. Webber screams before finally running away from him. She is eventually saved by Maynard Odets, who hides her as the cannibals come looking for her. As Webber thanks Odets for his help, he then takes an axe from behind a tree and plunges it into Webber's stomach.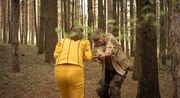 Webber attempts to stand. In doing so, Odets cuts off one of her hands before she can get up and regain her composure. Webber's body is taken back to their remote cabin at Odets request. Her corpse is then stripped of its clothing and processed by the cannibals as a source of food, leaving only her head behind. When Webber is no longer present, her co-workers come to the conclusion that she doesn't want to work alongside them anymore and she is quickly replaced.
She is the first person to die in Wrong Turn 5: Bloodlines                    
(Confronting Three Finer after taking her iPod ear plugs out): "You know what! I'm sick of this! I'm sick of you kids partying, making a mess and trying to scare people. But you know what? You don't scare me. So fuck you. Go home!"
Webber's death has become one of the most notorious deaths in the Wrong Turn franchise for it's middle finger sequence, which can be found on YouTube.