Trey King

Name:
Trey King
Gender:
Male
Hair Color:
Black

Eye Color:


Trap:

Dark

Camper in the woods

Known Relatives:

Brent - friend (deceased)

Alex - friend

Sophie - friend (deceased)

Status:

Cause of Death:




Killer:

Deceased

Impaled through mouth with wooden stick

Three Fingers

Portrayed By:
Jack Gordon
Appearence:
Trey King is a character from Wrong Turn 3: Left for Dead (2009). He is played by Jack Gordon.
Biography
Edit
Trey was a local collage kid who went camping with Sophie, Brent, and Alex. He looked as the most smart and happy of the group.
He rode with Alex and when they rest for the night, he goes to get firewood with Brent. Brent however returns and starts feeling up Sophie. Alex leaves and Brent returns right after Sophie is struck down by two arrows before she can continue crawling away.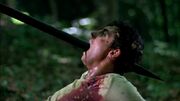 Trey is shot in the chest as he attempts to flee and after a few moments he trips. He turns and screams just as Three Finger thrusts the spear at him right into his mouth. He is killed instantly and has some of his blood eaten after Three Finger pulls the spear back out knocking him down. He is the second person to die.