"
All right well, let's go have some fun because I found some really cool sh*t
"

— Vincent
Vincent Bryant is a character from Wrong Turn 4: Bloody Beginnings. He is portrayed by Sean Skene.
Biography
Edit
Vincent is first seen having sex with his girlfriend Jenna. Their two lesbian friends Sara and Bridget are also having sex in the same room on a different bed. Vincent tries to look at them, but Jenna stops him. As they all finish, Kenia walks into the room and is surprised. She then tells them to get ready because the others are waiting in the mountains.
Kenia, Vincent, Sara and Bridget meet up with Daniel, Kyle, Claire and Lauren in the mountains at a spot where they parked their cars. They all don't know that it's a tow away spot. The group get into their snowmobiles and head to Kenia's boyfriend Porter's cabin.
They all take a wrong turn and a storm comes through. The group want to turn around, but they see an abandoned sanitarium and decide to stay in it for the night. Everyone looks around and all go into a room filled with couches and chairs, where they sit down.
Kenia, Jenna and Vincent decide to explore the place and go down a hallway, where Vincent goes into a room and he doesn't return. Kenia and Jenna are scared and go into the room. Vincent then jumps out and scares them both. One Eye is watching from far away in the darkness.
The three head back to the others and Kenia tells Vincent how much she is annoyed of what he did. Vincent leaves and finds the generator. He gets the power to work and meets back with the others, then they all look around the place and party.
One Eye secretly watches the group. The group also find weapons in a room in the basement. Everyone then looks at old patients files and then watches a movie about deformed patients being hurt. Lauren tells the group a story her brother told her about Cannibals in west Virginia, but no one believes her.
Afterwards, everyone is tired and they all find rooms, then go to sleep. Vincent can't sleep and wants to go explore the sanitarium some more. He sees Sara and Bridget having sex and watches them. Sara sees him and smiles. He then leaves them alone.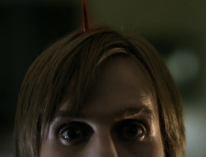 Vincent goes down a hallway and finds Porter pressed against a glass facing the other way. He is shocked to see him and starts asking questions. Vincent realizes he is dead and when he turns around, Saw Tooth shows up and stabs him up the chin with a huge needle and it goes out of the top of his head after his last line was "Holy fuck!".
Sean Skene also portrayed Three Finger.
He's the second to die out of the friends.