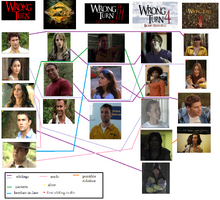 Throughout the five Wrong Turn movies, we have noticed that many characters have the same last name so we looked on their wikia page to discover that many of them are indeed related. So, we composed this amateur family tree to show the character relations.
Siblings - Dark Purple and Light Purple show that they are confirmed siblings.
Parents - Green shows that they are confirmed the parent of the character(s).
Brother-in-law - Blue shows that they are confirmed brother-in-laws.
Uncle/Aunt - Pink shows that he or she is an uncle or aunt to the shown character(s).
Possible Relation - Orange shows that there is a high probability that they are siblings. (We suspect that Lauren and Julian are related because they share the last name, Jones.)
Yellow Dot - Yellow Dots show that these characters escaped and are currently alive.
Red Dot - Shows which of the siblings died first (since we all know that 4 and 5 are from the past).
Family Members
Edit
We are assuming all of this. We are not entirely sure, but we have seen all of their wiki pages and it does say they are related.
Jessie + Chavez: Daughter/Father.
Daniel + Chavez: Son/Father.
Chavez + Trooper: Brother-in-laws.
Jessie + Trooper: Niece/Uncle.
Daniel + Trooper: Nephew/Uncle.
(It has recently been confirmed that Lauren is indeed Julian's older sister.)